Cem and family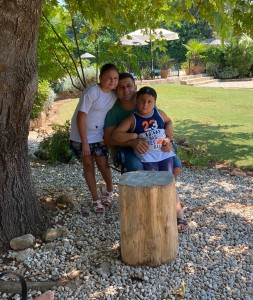 As of 2013 the new owner of the villas at Kaya Vadi is Cem Selcuk. Cem (pronounced "gem"), was born and bred in the valley and lives just half a mile away on the family farm. Cem has a beautiful daughter Ilkim, and a fine son Serkan.
Cem has been working at Kaya Vadi since about 2001. The original owners, Tim and Bridget Levingston, asked Cem to take over the management of the villas when they returned to England in 2005. Then, in 2013, they were delighted that he was able to buy the company from them and so continue to offer an unchanged holiday experience to all our loyal guests.
Cem is very well known in the Kaya valley and in nearby Hisaronu and Ovacik. As well as owning the four villas at Kaya Vadi and fifth villa nearby, he has built up another successful business offering airport transfer services, car hire and taxi services. It would be hard to find an English property-owner in this part of Turkey who has not used Cem's services – often many times.
After more than 7 happy years in Turkey, Tim and Bridget moved back to Berkshire in 2005. Bridget went back into IT marketing and is doing very well. Tim continues to help Cem with the marketing, sales and administration of the holidays, and the rest of the time is working on his golf handicap!
Customer References
Over the years we have had more than 700 families or couples staying with us at Kaya Vadi. In any given year about 40% of our guests are families returning who have stayed previously. Some of our guests have been to the villas a dozen times or more, and many have become close friends of ours. We could fill a small book with comments from previous guests. Here are just a few examples.
Maggie W. from Edinburgh
"Just returned from a fantastic holiday. Was well beyond anything we hoped for. The villas were lovely and seemed to have everything we might need. The grounds were so beautifully landscaped and maintained……. Looking ahead to next year … "
The House family and "bump", Oxon.
"We are back again, but this time we are married and expecting our first child. Have come back to Kaya Vadi for a final relaxing time before our lives change forever in August. Thanks once again for a high standard of accommodation, wonderful friendliness and such a relaxing place. We plan to come back "avec bebe" so hope to see you again v. soon."

The Baxter's, Devon.
"Well, our 8th visit and already looking forward to the next time. As always lovely, welcoming and a relaxing holiday."

The Smit's from The Netherlands
"Amina and Frank were right, this is a lovely place in such a beautiful valley!! I don't believe the week has passed already! Thanks for the great hospitality. It was lovely to meet you. All the best."